Promethazine hydrochloride
【English name】: Promethazine hydrochloride
【Alias】: Promethazine hydrochloride, Phenergan.
【CAS】58-33-3
【Structural formula】: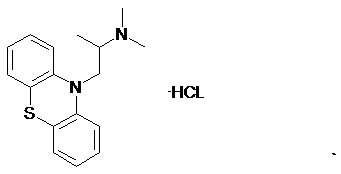 【Category】: antiparkinsonism drug
【Accurate word of traditional Chinese medicine】: H21020627
【Packing Specification】Domestic sale, 25kg/drum; Export sale, according to the requirements of the customer.
【Product Description】
Function: block histamine H1 receptor competitively which comes into antihistamine activity, restrain the trichangiectasia caused by antihistamine, lower its permeability, help soothe the wheeze due to contractile bronchial smooth muscle, the effection is stronger and durable than that of diphenhydramine hydrochloride. As easily entering into the brain, the sedation is obvious. Strengthen the central inhibition of the hypnotic, analgetika and anaesthetic; the anti-cholinergie effection is powerful, it also has a good effect of prevention and cure of carsickness. Widely used in skin and mucosal allergy reaction、allergic rhinitis、asthma、food allergy、dermography、pelagism、airsickness, ect.