Metformin HCL
【English name】: Metformin hydrochloride
【CAS】1115-70-4
【Structural formula】: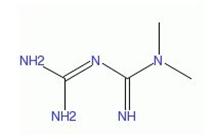 【Category】: hypoglycemicagent
【Package Specification】: For domestic sale, 25kg/durm; for export sale, determine according to the customer's requirement.
【Product Description】:
Usage: it is used as hypoglycemicagent. It can lower the hyperglycaemia for the II diabetic before or after meal, HbAlc can be lowered 1%-2%, the Function mechanism is :①increase the sensibility of surrounding tissues to insulin and the insulin-mediated usage of amylaceum. ② increase the the amylaceum usage to those organization which are not dependant on insulin, such as brain, blood corpuscle, medulla renis, intestinal tract, skin and so on. ③ restrain the heteroplasia of hepatic glycogen, lower the output of hepatic glycogen. ④ restrain the intestinal wall cells from absorbing amylaceum. ⑤ restrain the biosynthesis and storage of cholesterol, lower triglyceride, and total level of cholesterol. Different from the function of insulin, it has no effect on promoting the combination of fat, no evident action of regulating blood sugar level to those who are normal, it usually causes no hypoglycemia action when used as the only medicine to II Diabetes.