Chlorpromazine hydrochloride
【English name】: chlorpromazine hydrochloride
【Alias】: wintermin; Largactil, chlorpromazine, Maxin, chlorpromazine hydrochloride
【CAS】69-09-0
【Structural formula】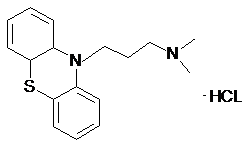 【Category】: antipsychotic drug
【Accurate word of traditional Chinese medicine】: H21020629
【Package Specification】: For domestic sale , 25kg/durm; for export sale, determine according to the customer's requirement.
【Product Description】:
Usage: it is the Represent medicine of phenothiazine, used as blocker of center dopamine receptor with many pharmacological activities.1. mental disease treatment: it used to control Schizophrenia or other psychotic excitement, intension,delution and imagination, it has little function on melancholia and stupor. 2.restrain vomit: it has function on vomit caused by most sickness, such as toxuria, gastroenteritis, cancer, gestation and medicine.It is also suitable for the treatment of intractable hiccup, but it is invalid to kinesia vomit. 3, low temperature narcosis and artificial hibernation: it can prevent shock during the low temperature narcosis. 4. it can cure the terminal cancer patients' pain when combined with analgesic. 5, treatment for heart failure. 6.treatment for gigantism.